We take your safety very seriously.
With 28% of work-related fatalities in the UK attributed to falling from a height, remaining safe while working at height is crucial. To raise awareness for this issue, as well as to ensure that safety remains priority number one, PASMA is putting a helpful hub of information at your disposal, from guidance to resources on mobile access towers.
PASMA Tower Safety Week, which runs from the 12th to the 17th of November, is packed full of activities and events for members and supporters, so keep an eye on what is happening at the moment in order to participate.
#towersafetyweek is underway! See the many campaign activities going on here #helpgbworkwell #healthandsafety #construction https://t.co/bcvG4jj73E pic.twitter.com/dbQzyeU3Pn

— PASMA (@PASMALtd) November 13, 2017
We are official partners of PASMA, as we believe that training people to work at height with health and safety in mind is crucial. After all, when both employees and employers have a deep understanding of not just regulation but also of the necessary safety practices, it becomes easier to ensure a reduction (and elimination) in the number of work-related accidents and injuries.
Falling from height accounts for 7% of all non-fatal injuries in the UK and, while this number is not as high as the one pertaining to fatal injuries deriving from this type of work, it's still something that we all seek to avoid. PASMA understands this importance, which is why they are offering a wide range of resources and dedicating a whole week to tower safety.
Whether you're a trained tower user, a person responsible for the safety of employees, or just want to learn more about towers as a flexible way to access height, you'll find the right information here.
So, what does PASMA focus on and how can it help you?
1. Choosing the Right Equipment
Knowing your own equipment and picking out the correct one for the job at hand is crucial. PASMA ensures that you're trained in a diverse range of mobile towers and understand when each specific one should be used.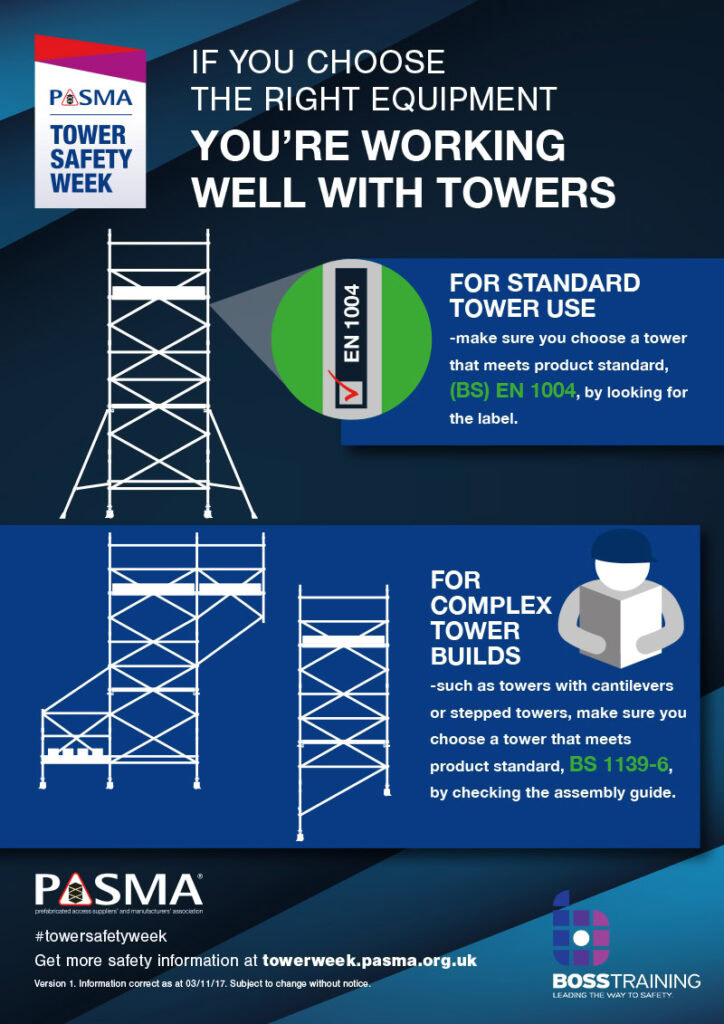 2. Build Your Tower Safely
While safety when working at height is of the utmost importance, so is making sure your towers are built to the highest standards. A tower that follows all regulations and is built correctly will provide you with much-needed solid footing to perform work at height.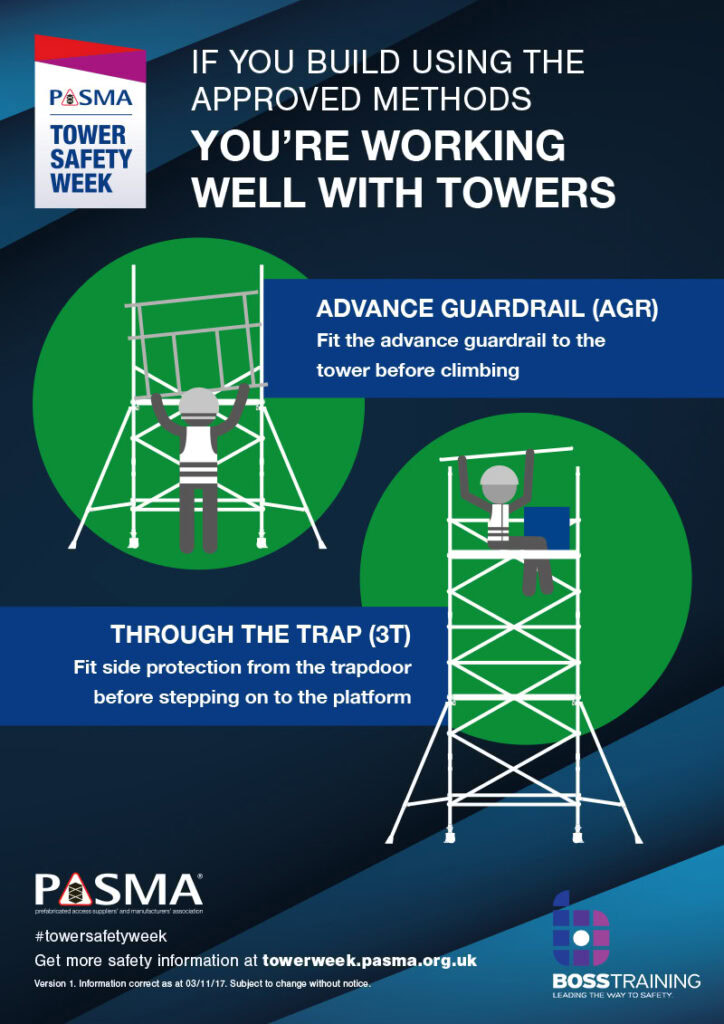 3. Training is Vital
This is especially true of more complex towers, which require specific training that will help you to build them with the appropriate health and safety standards in mind. PASMA specialises in mobile tower safety training, so, if you're looking to be trained in it, look for the PASMA badge before choosing a training specialist.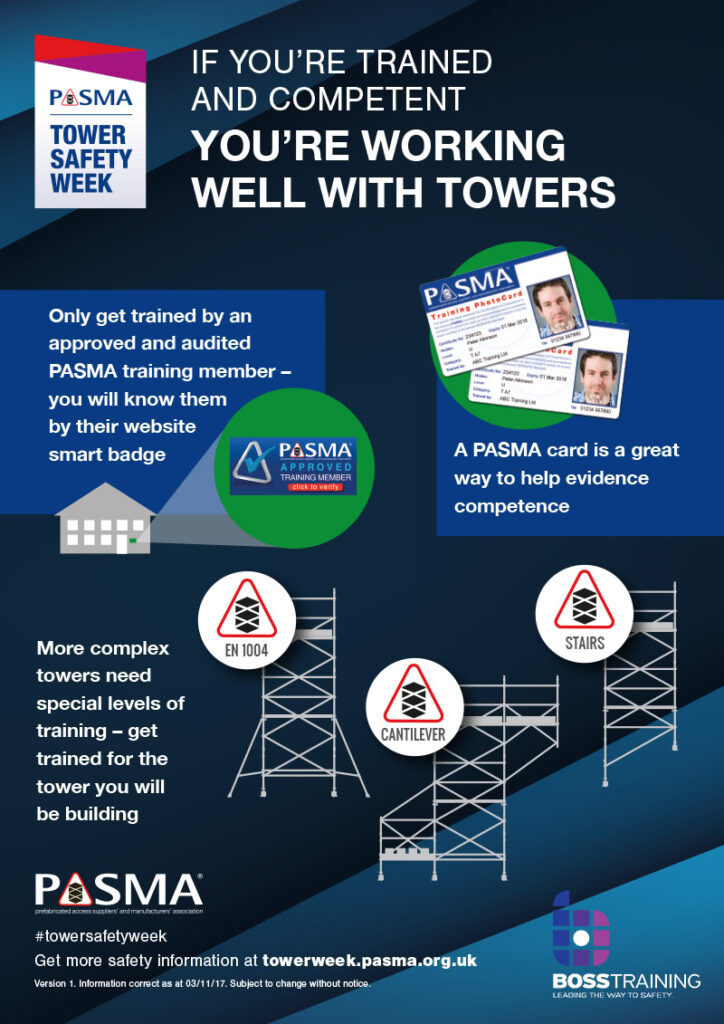 4. Have the Right Guidance
PASMA wants everyone to be safe when working at height, so they have become experts in mobile access towers. They can build high-quality towers as well as train operators in how to use them, meaning that if you make use of their services, products or resources, you can be confident that you are working with safety and quality.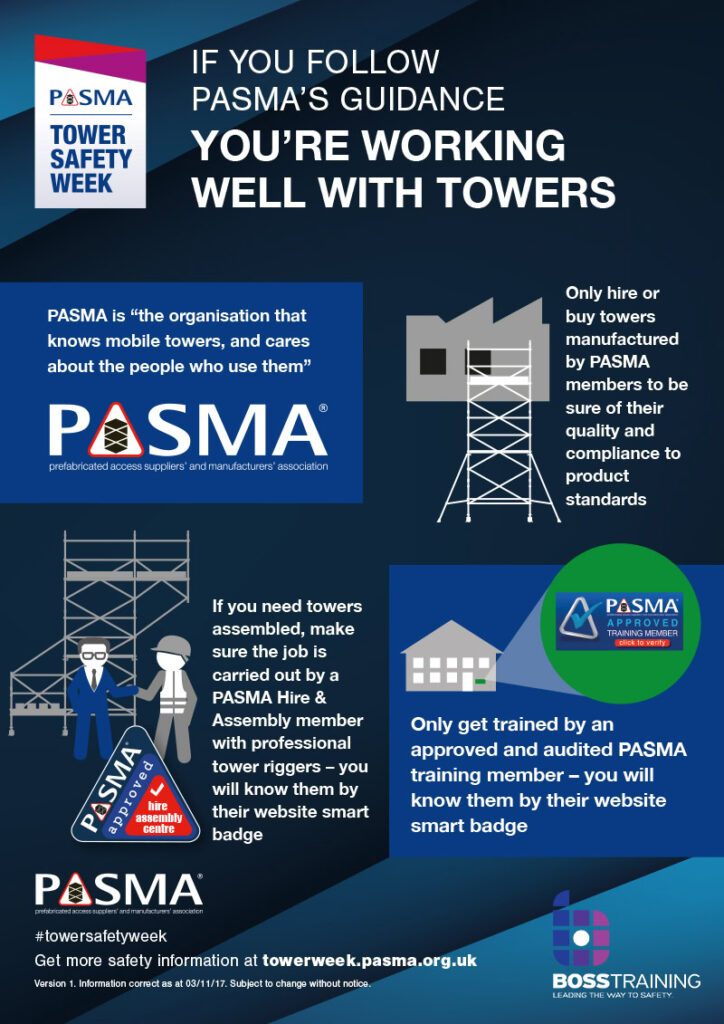 PASMA Tower Safety Week is all about getting the right information to the right people, as well as getting them involved – so, why not find out how you too can join this worthy campaign and ensure the safety of your workplace?
If you wish to learn more about how to receive training in any of PASMA's courses, get in touch with our team today. We'll answer any questions you may have and ensure you get the right training for you, your business, and your workers.