When it comes to investing in the right health and safety training courses for your employees, there really can be no compromise. But we understand just how difficult it can be to be absolutely sure your employee is attending the right course for their role and requirements.
If you are having issues on ensuring you are putting your staff forward for the right asbestos training courses, then fear not, this article will give you all of the answers you seek!
We will take a closer look at the four distinct asbestos courses that are on offer, highlighting who should attend each course.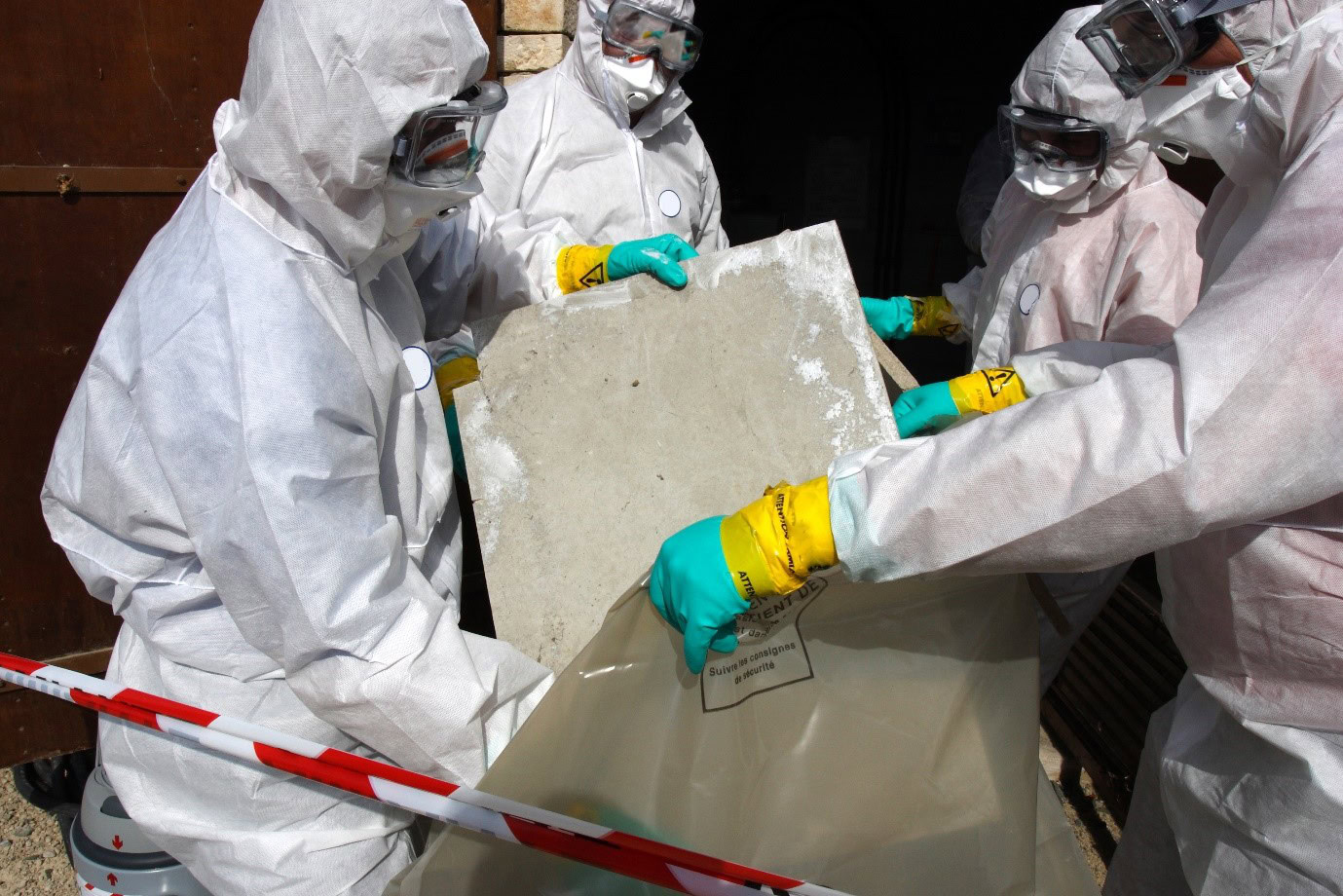 UKATA Asbestos Awareness Course
The UKATA Asbestos Awareness course is seen as the entry-level course for anyone who is likely to encounter asbestos as part of their day-to-day role. The course will take  half a day to complete, and we would recommend sending your employees on the course as a matter of urgency.
This course is absolutely essential for any of your employees who are likely to work in environments that are likely to expose them to asbestos. The training will cover the dangers of working with, and around, asbestos, whilst also taking a closer look at risk prevention when dealing with the material in the workplace.
Upon completing the course, delegates will receive a UKATA registered Asbestos Awareness Training Certificate, which is valid for 1 year. Following this period, you will need to ensure that all of your employees take part in a refresher course to guarantee they are still fully competent at avoiding the dangers asbestos present in the workplace.
UKATA Duty To Manage Course
The UKATA Duty To Manage Course is essential for anyone who is likely to be in charge of employees on a site which contains asbestos. The day-long course will give delegates an overview of the duty to manage legislative requirements, whilst also giving a more detailed insight into how supervisors should go about keeping staff safe whilst on site.
This course was brought in as an extension to the UKATA Asbestos Awareness Course and provides delegates with an insight into the practical skills that any duty manager must have when working with asbestos. From the daily management of risk when working with the materials to how to best develop an Asbestos Management Plan, this course will give managers the insight they require to guarantee the safety of anyone working under their supervision.
After delegates complete the course, they will be presented with a UKATA Duty To Manage Certificate, which will be valid for 1 year. Before the yearlong certificate expires, your employees are required to take part in a refresher course to ensure they are completely up-to-date with all of the latest legislation surrounding asbestos and current best practice.
UKATA Non Licensed Asbestos Removal Training
The UKATA Non Licensed Asbestos Removal Training course gives delegates an understanding of the laws surrounding asbestos and control measures that should be put in place before undertaking any work on the site. The course will last one day and will give those in attendance an overview of the theory surrounding asbestos, and how they can stay safe when working with the material.
This course is best suited to those whose work is likely to disturb low-risk asbestos-containing materials. The UKATA Non Licensed Asbestos Removal Training Course is ideal for those who are only going to come into contact with asbestos in short stints, like maintenance staff, engineers, plumbers or demolition workers.
This course will cover practical training too, with delegates participating in the following exercises:
Preparation of RA and POW
Fitting and use of RPE and PPE
Drilling into boards using shaving foam, shadow vacuum and drill cowl
Removal of asbestos gaskets
Removal of fly-tipped asbestos waste
Waste handling and disposal
After completing this course, your employees will receive a certificate which is valid for 1 year. Following this period, your staff will be required to take a refresher course in order to continue working safely with asbestos-containing materials.
Online UKATA Asbestos Awareness Course
If your business and employees are pressed for time, then we would definitely recommend taking our Online UKATA Asbestos Awareness Course into consideration. The course will take a minimum of 2 hours to complete, so this is ideal for anyone who needs to understand the fundamentals of asbestos in a short period of time.
Whilst you won't have in-person access to a highly-skilled training instructor, you will have a comprehensive e-learning experience that is more than capable of giving all of your employees' access to the information they require to safely carry out their role.
The course is split into 4 modules, to ensure that all employees receive ample training before working with asbestos. The 4 areas covered are:
Module 1: Properties, risks and effects on health of asbestos exposure
Module 2: Types of asbestos
Module 3: Uses and locations of asbestos in buildings
Module 4: Emergency procedures and legislation
There are actually a whole host of benefits of choosing online training from Boss Training, including:
Prices start from just £9.90 + VAT if purchasing e-learning courses for over 100 employees. Prices sit at just £19.90 + VAT for 1 license.
Your employees get immediate access to the course.
You will receive full telephone and email support from our dedicated team.
You get a free re-sit if any of your employees do happen to fail the course.
Upon completion of the course, you will instantly receive your certification.
We hope that you found this article useful! As a licenced provider of UKATA asbestos training courses in the UK, the team at Boss Training understand just how important it is for your business to be absolutely sure all of your employees are fully trained. If you do require any more information regarding any of our asbestos courses, then be sure to get in touch with our friendly team today. You can call us on 01422 358184 or get in touch using our simple online enquiry form and we will be in touch with you as soon as possible.