This month, Boss Training put the Royal Shakespeare Company through their paces in their PAV course at the Birmingham Hippodrome.
The Push Around Verticals course was attended by the production crew of the international award-winning Matilda (UK and Ireland) tour ahead of their stint in England's second city.
The certification, which lasts for five years, ensures that the technicians who make the magic happen behind the scenes can continue to do so safely to the delight of their audiences across the country.
The hit musical, described by Rolling Stone magazine as "unique and unforgettable" and with a score written by Tim Minchin, contacted the team at Boss Training to show them all they needed to know when using non-mechanical vertical platforms.
Oliver Thomas, Head of Electrics, Matilda UK & Ireland Tour at the Royal Shakespeare Company told us, "The platforms are used mainly when the show is being put together and taken down in each of the venues that we visit.
"During this period, they allow our team to access lighting equipment & stage and automation machinery for maintenance and fault finding. Once the show is open they are used for safety inspections on machinery and electrical equipment as well as preventative maintenance to ensure everything runs smoothly".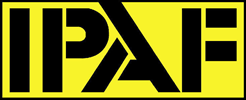 With a hectic schedule to keep to, keeping up with accreditation can be a challenge. Throw in a national tour and a huge technical production with the highest of standards to maintain and it could have proven nigh-on impossible, so it was crucial that the training team from Boss joined the RSC on location at their latest venue to carry out the training.
Andrew Murphy, Managing Director at Boss Training said, "We work with a wide variety of organisations to provide workplace training, from zoos, private hospitals to chocolate manufacturers, and it was a great pleasure to work with an organisation as prestigious as the Royal Shakespeare Company.
"With a national tour underway, we were delighted to be able to fit in around their rehearsal schedule by visiting them at their latest venue and incorporate the equipment they use in their production to make the training as relevant and realistic as possible for them."
The tour continues in Birmingham until 8th September before heading to other venues across the country for the next year, with tickets still available. It's safe to say that audiences up and down the land will be truly enthralled by this "utterly exhilarating" musical extravaganza.